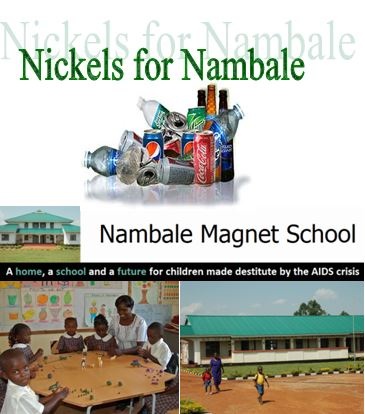 Bring your clean, redeemable bottles and cans to Christ Church,
526 amity Road, Bethany to donate them
and help Nambale Magnet School continue
to house and educate children!
Members of Christ Church have been instrumental in the founding and growth of the Nambale Magnet School in Kenya. What was once a dry, empty piece of deserted land has become a growing residential and educational facility that currently provides over 250 children housing, education and hope, The lives of the these students, come come from families that have been devastated by AIDS, are completely transformed under the compassionate leadership and care of the Rev. Evelyn Wakusama and her staff. Evelyn was a Yale Divinity School intern at Christ Church just a few years ago.. While she was with us, the church was inspired by her dream to start a school and along with a few other area churches was active in fundraising for the founding of the school, and continues to fundraise for the school's continued growth. Members of the Christ Church continue as board members of the school and take active part in visiting and supporting the ongoing development of this important ministry.
Since starting with the pioneer class of 32 students in January of 2009, the school has grown in numbers, programs and accomplishments. In the most recent district tests, Nambale students scored 6 of the top 10 scores out of 2,222 district candidates. These children have been given a helping hand out of desperate poverty by the Nambale Magnet School. Christ Church is grateful for the chance to be a part of this exciting ministry and continues to seek new ways to support these children.