Christ Church Published a
New Cook Book
The Episcopal Church Women of Christ Episcopal Church, Bethany, have compiled a book of favorite recipes called Christ Church Cooks and Friends: Past and Present, which is available in time to be purchased as a wonderful Christmas present at the annual Pumpkin and Holly Bazaar or Spring Fair in May, or any time by calling the church office at 203-393-3399.
Because our parishioners live in 13 area towns; and because at last year's Pumpkin and Holly Bazaar customers hailed from 14 additional towns, the church women decided to invite and encourage friends in the community and beyond to contribute to this book. With fond memories, the book also lovingly features a section on Christ Church Cooks from the past, highlighting noteworthy contributions given to past ECW cookbooks by those who are smiling down on us today.
The recipe book is divided into the following categories: Appetizers, Beverages, Soups, Salads and Dressings, Main Dishes (Meat, Seafood, Poultry, Egg, Cheese, Pasta, and Casseroles), Vegetables and Sides, Breads and Quick Breads, and Desserts (Pies, Cakes, Icings, Cookies, Bars, and Candies).
Cookbooks make great gifts!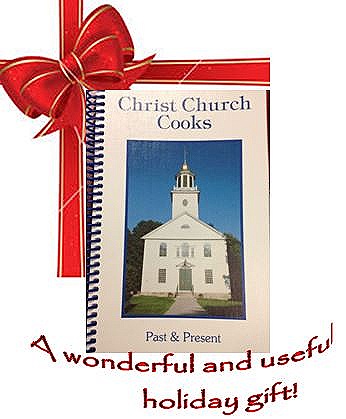 Cookbooks make great gifts!
Pick up yours today - call the church office at
203-393-3399